Operations & Network
·
Amsterdam
(Junior) Client Account Specialist
Do more with your money!
Who we are

BUX is Europe's fastest growing neobroker with an ambition to become the number one destination for everyone who wants to do more with their money. Our mission is to build groundbreaking products that shape the future of how we invest. Our three platforms, BUX Zero, BUX X and BUX Crypto, are built for long-term investing, short-term trading and for buying and selling crypto. We are growing at a rapid pace and expanding our global team (38 nationalities and counting) with offices in Amsterdam, London and Cyprus.

Your role
We are looking for someone to help with the operational processes and procedures to remain compliant with the regulatory requirements of a financial institution. A large part of your responsibility will be the onboarding of new clients from all across Europe to the BUX X, BUX Crypto and BUX Zero apps. For this you will be required to apply the Know Your Customer (KYC) and Anti Money Laundering (AML) rules to new client applications to reduce fraud and mitigate risk. Whilst doing so, you will be looking for areas to improve on and in turn reduce friction points for our clients as well.
Next to this, you will be responsible for annual reassessments, updating client information, and ensuring that changes to personal details are handled correctly. We need you to have real attention to detail, good communication skills, and be ready to dive into the data to help you formulate a plan for improvement. You should be flexible with working hours, have a proactive 'can do' approach, and be able to handle change (we're a scale up!).
You'll be working closely with support and compliance departments and will act as a close link to all other teams involved in the onboarding flow within the BUX X, BUX Crypto and BUX Zero apps. The team you're in will also have a direct link to the Product Owner in charge of Onboarding and Back Office to see how we can implement improvements. We want you to feel fully responsible for the KYC/AML process, be empowered to make decisions, and to be proactive in handling challenges. You will have the freedom to implement your own ideas and working practices and can use this role to gain some great experience within the Fintech space.
Familiarizing yourself with our current onboarding process and then identifying areas for improvement will be your first tasks in the role.
Responsibilities
Assisting clients who get stuck during the onboarding process
Performing PEP Sanctions checks and continued monitoring on our user base
Perform Enhanced due diligence 
Assisting Compliance with daily operational processes and procedures
Ensuring client information changes are handled correctly (eg. address/name changes and when clients are deceased)
Be a point of contact with onboarding 3rd parties to share feedback and work on improving efficiency
Keeping up with the latest and greatest in the fintech space
Maintaining manuals and documentation relating to KYC/AML processes
Desired Skills and Experience

Clear and efficient communication with clients
Higher educational background (i.e. Bachelor or Master degree)
Experience in fintech or other regulated businesses is a bonus
A good eye for detail
Love to deep dive into data
Good at managing your time and workload
Eager to work in a scale-up environment where things constantly evolve
Living in close proximity of Amsterdam
Benefits
International, fun, and flexible work environment
Employee stock options plan
Company pension plan
All the hardware you need for your job
Working from home & travel allowances
Conference & training budget to boost your professional development
Every team member at BUX can have unlimited appointments per year with a psychologist or coach via OpenUp
When applicable, BUX supports your relocation to Amsterdam
The possibility to work from abroad for 1 month every 12 months
A cool new office in Amsterdam's lush cultural garden, De Plantage
A1 Dutch language course for you and your partner
Flo and Shannon's famous lunches
Weekly drinks, fun company events
Ownership and responsibility: you will be empowered to make a difference and introduce your own ideas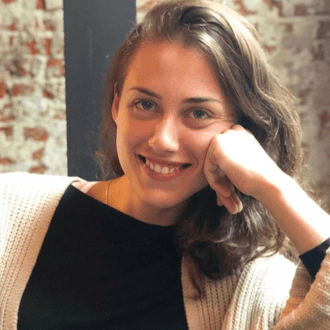 Contact
Aya Agbaria
Talent Acquisition Specialist – People
Already working at BUX?
Let's recruit together and find your next colleague.